A guide to clean paths, patios and driveways
If you're looking to get your patio and paving slab driveway clean and weed free, then you've come to the right place. In this guide we'll go through each step to make those paths to your home looking their best!
What you'll need to get started:
The first step is to make sure you have all of the tools and resources to tackle dirt and weeds.
Access to warm water
A bucket
A hard-bristled brush
A bottle of patio cleaning solution
If you have one available, then a pressure washer is also a great option to include. If not, not problem, as it's not essential. And as this is a messy job, even when done right, you may want to wear some old clothes and garden gloves.
Step 1: Remove any weeds.
Weeds love finding ways to survive in the little nooks and crannies of your driveway or patio paving slabs, so before we start cleaning, we need to make sure we get rid of them. As the most effective method, we'd recommend using a systemic weedkiller that will kill these hard to dig up weeds, and the roots along with them.
Step 2: Mix your patio and driveway cleaning solution.
Using a cleaning product that isn't designed for use on your patio, path, or driveway can actually leave residue, or even damage them. Therefore, we suggest purchasing a specifically designed patio cleaning solution that is not only safer, but also provides superior results.
You'll need to mix this with water according to the instructions on the label, and either pour this into your bucket, or if using a pressure washer, some include a compartment for you to include cleaning mixtures.
Step 3: Pour and scrub
Now it's time to start pouring your cleaning solution onto the areas of your patio and driveway that your looking to clean. If you have a large area to cover, it might be worth doing this in stages, so that your solution doesn't dry on the slabs before you're able to get to it.
Next, grab that hard-bristled brush and start scrubbing your patio or driveway. The hard bristles will easily tear through dirt and algae when coupled with the cleaning solution. You may be surprised about how much dirt is coming up or being dislodged from the slab joints, but that's normal.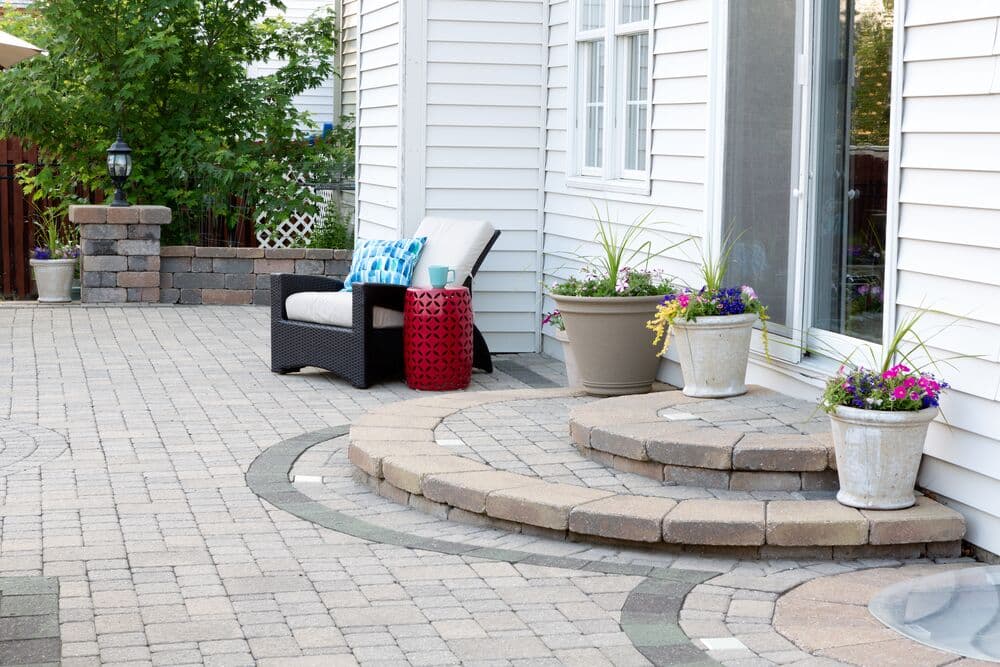 Step 4: Rinse with clean water
When you're happy that you've managed to scrub away the dirt and algae, you'll need to rinse it away with clean water. If using a pressure washer, most of this will be gone already, but you may want to change the spray to a softer option than the jet so that you can wash away the last bit. If you're not using one, then it depends on the area you're tackling, but a simple bucket of water or garden hose should do the trick.
Step 5: Maintenance
The best way to avoid having to clean our patio or driveway too often is by ensuring that you regularly sweep it, and keep it weed free using a long-lasting weedkiller, especially the joints in your paving.
A little regular maintenance also ensures that your patio and drive last as long as possible, allowing you to enjoy and appreciate it for years to come.
Depending on the type of driveway, you could try pulling weeds out by hand (try and grab the root of the weed)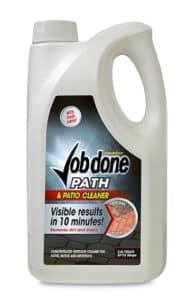 Path and Patio Cleaner
Are your paths, patios and driveways in need of a new lease of life? Path & Patio Cleaner is concentrated outdoor cleaning solution you need. Suitable for hard surfaces, it not only removes dirt, algae and stains, but also restores natural colour - and results can be seen in 10 minutes!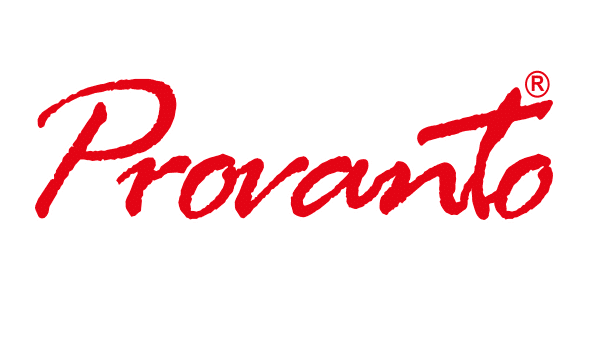 Protect your garden all year long